"Grandpa, you were part of a great family - right?"
Kurama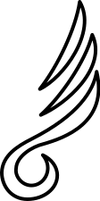 Name: Kurama
Location: Originally Konoha, but spread out after persecution.
Type: What is the main 'Jutsu' of the clan. And it's sub-main.
* Genjutsu
*None
Bloodline: The Kurama clan (鞍馬一族, Kurama Ichizoku) is a clan of extremely skilled genjutsu users. (Their genjutsu are one rank harder to break.) This talent in genjutsu is due to the unnamed kekkei genkai that the clan possesses. However, once every few generations, a member of the clan will be born with such enormous skill in genjutsu that their illusions can actually produce tangible effects that occur in reality (This ONE PERSON AT A TIME's genjutsu are 2 ranks harder to break.) The genjutsu is so powerful that it causes the brain to make anything that happens to the victim within the genjutsu physically real, allowing the clan member to potentially kill their opponents with genjutsu.
Such frightening power is not without its drawbacks, however. The user can rarely control the full extent of their abilities, and as such their subconscious will often regulate that power, leading to the creation of a second personality in control of that power. This personality then overwhelms the original, turning the individual into a monster that is a danger to everyone around them.
The members of this clan are also able to easily break themselves out of genjutsu, because of their understanding of how it works and their great ability in them, in a similar way that Deidara can. However, they cannot "see-through" genjutsu. This means that, while they can break it, they do not automatically realize they are caught in one.
Current Members: Open, I will be that "once every few generations"
Clan Jutsu[s]:
Jutsu Name: String Bean Binding Illusion
Rank: B
Ranges: Short
Type: Genjutsu
Description: A typical technique amongst the members of the Kurama clan, the user makes themselves disappear while the target sees several bean vines growing from the ground. These vines bind the victim's body, lifting them into the air. Then, a bean pod raises and opens to reveal the user, ready to strike.
Users can add more if they so choose
Clan History: In times past, this village was numerous in and exclusive to Konohagakure. However, over time, fear of the clans powers grew. Their numbers in the village started diminishing. However, the people of the village thought they were lowering under the pressure. They were not. There was a slow but steady stream of the members out of the village. They feared persecution, even genocide. Their powers were too much for the normal people of the village to handle. They feared what occasionally sprouted up, a demon, a monster hiding in the body of another, describable only be one phrase: bad news. This popped up with Yakumo Kurama, who casts all of Konoha into a genjutsu that light the hokage's office ablaze.
It was around this time that the clan was flourishing elsewhere. Several had come together, made a small settlement in the borderlands. This settlement has developed into a simple civilian village, sending any members who wish to be ninja to one of the other major villages.. However, some went to other major villages. It is not good for someone to leave one village for another. However, considering the circumstances, it was what had to be done. There was only one living member left in Konoha, and the bloodline died out there. However, elsewhere, it continued on, not growing, but not shrinking either.
"Grandpa, I'm just like you, from a great family!"